Close
Thank you!
You have scbcribed ARCH successfully.
Subscription
Subscribe us for our latest update!
Resources for Academic Success
Blog
Looking for more information to help you find your direction towards academic success?
Welcome to our blog - a resource of top tips and strategies for ambitious students and families!
Oxbridge: More Commonalities than Differences or Vice-Versa? Why Getting This Right Matters to Your Oxbridge Application
Often placed on an equal footing, Oxford and Cambridge – the epitome of prestige, heritage, and all-rounded academic excellence in higher education – are centuries-old close rivals that landing on either would suffice to give parents and students big smiles. Due to the tremendous and ever-increasing amount of applications Oxbridge receive from around the world, however, each applicant can only apply to either university only. When a student's once-in-a-lifetime shot at applying to Oxbridge comes down to either one or nothing, it becomes all the more important for students and parents to understand the commonalities and differences between Oxford and Cambridge before they embark on their admissions planning and preparation.
The Oxbridge Similarities
From the collegiate structure to tutorials and supervisions, such commonalities – exclusive to Oxbridge – are undisputedly what set both institutions apart from all of Britain's universities. The college system is an opportunity for students to take advantage of the best of both worlds: not only would they thrive as part of a large, diverse University, but they would also get to live, study and socialise with peers from within a close-knit, multidisciplinary college community. Likewise, students would be able to enjoy the facilities and resources of their colleges and the wider University.
Though referred to as 'tutorials' at Oxford and as 'supervisions' at Cambridge, both share the same approach to teaching: highly personalised contact time between students and disciplinary experts in the form of weekly sessions. Prior to each tutorial/ supervision, students would need to have prepared an essay or a piece of work that the academics will review and discuss in small groups. As it has always been the case for UK universities to focus their efforts on student recruitment for their financial health, especially post-Brexit [1], while it is not uncommon for academics to prioritise their research over their teaching commitments, Oxbridge tutorials/ supervisions would remain as rare and valuable opportunities for students to direct their learning under the close guidance of tutors and push themselves academically in the presence of enthusiastic peers right from the beginning.
ARCH Rivals? Differences in Course Offerings and Admissions
Still hanging onto the "Oxford for humanities, Cambridge for sciences" belief? Whether or not this used to be a valid claim, both universities have moved on, providing a range of discipline-specific as well as interdisciplinary subject offerings that vindicate their academic accolades. In particular, it is in the latter where landmark courses unique to both institutions are found. For instance, Politics, Philosophy and Economics (PPE), and Human Sciences at Oxford; Land Economy, and Human, Social and Political Sciences (HSPS) at Cambridge. That said, even for discipline-specific courses, both institutions have distinguished themselves with their unique take on course design and structure. Take Sciences as an example, while the Natural Sciences Tripos at Cambridge allows students to embrace the multifarious branches of biological and physical sciences before specialisation, aspired scientists targeting Oxford would have to set their heart on individual sciences from start to finish.
Diversity/ Differentiation amongst Oxbridge Courses

Oxbridge Sciences Subjects/ Courses Available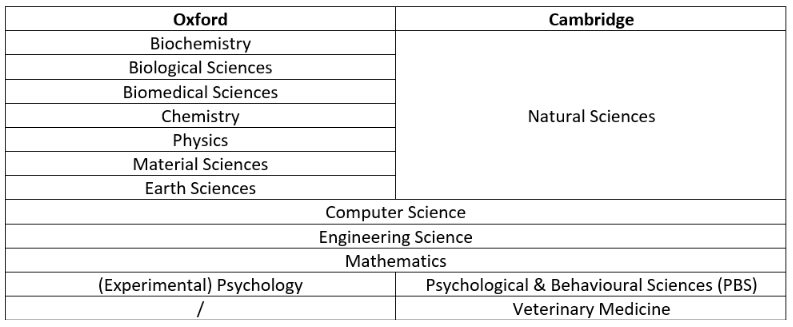 Know what applying for your chosen course entails: from submitted work to aptitude test, and interviews
Given Oxbridge's unique take on course design and structure, it is no surprise that each Oxbridge course has its own admissions requirements in the form of submitted work, aptitude tests and interviews. Besides course offerings, students would benefit from taking a closer look at what applying for a specific Oxford/ Cambridge course entails. In fact, when deciding whether Oxford and Cambridge, many students and parents prefer working backward based on the admissions requirements of individual courses. A daunting process it may seem, students can go about this strategically and systematically.
Dubbed 'written work' by Oxford and 'submitted work' by Cambridge, these are essays students have written as part of their school curricula and should be marked by teachers before being submitted. Arts and Social Sciences generally require submitted work though not all colleges do, so students should check the course and college requirements applicable to their entry year carefully and ensure their written work is submitted before the deadline, which is typically in early November though again varies depending on course and college.
Due to the highly competitive nature of Oxbridge courses, applicants are required to take aptitude tests for most courses. Question types and test formats aside, the key difference between Oxford and Cambridge aptitude tests is that the former is pre-interview assessments (see table) regardless of the college applied whereas the latter can be pre- or at-interview assessments, of which the latter is required by certain colleges only (see table). As important as it is for students to practise on the course-specific aptitude tests up until taking the real assessments, students should decide whether they are better suited to take pre- or at-interview assessments. The former takes place in early November, which is just a fortnight from the mid-October UCAS deadline, thus demanding students to have good time management. Though also required as applicants would need to persevere through at-interview assessments and interviews on consecutive days if not on the same day; to thrive, applicants would need solid stress management skills to ensure their written assessments are unaffected by their interview performances to the extent possible. Statistically speaking, the interview rate of Oxford is lower than that of Cambridge, with just less than 60%[2] in the past years while the latter is at around 75%[3]. To be invited for admissions interviews at Oxford, students would really need to nail their pre-interview assessments.
Oxbridge Aptitude Tests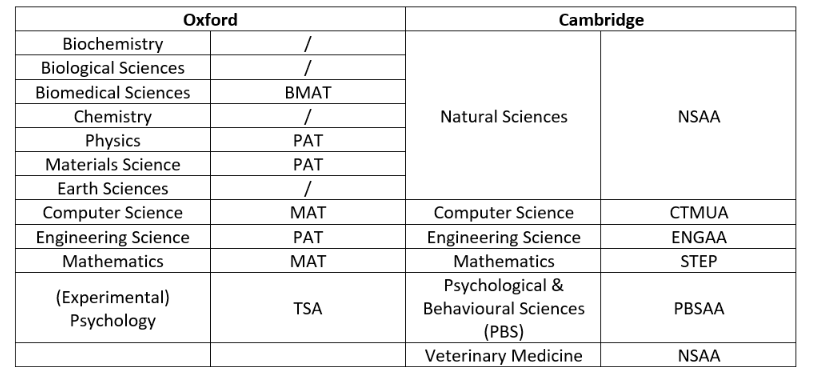 Cambridge At-Interview Assessments

For 2022-entry. Please visit here for the complete list.
Oxbridge Interviews – Reallocation vs the Pool
Once at the interview stage, what does it take to impress the interviewers? For clarity's sake, Oxbridge interviews are not designed to test how much students know about the targeted subject(s), neither do they aim to trick students; instead, interviewers are seeking flexible, intellectual, and responsive minds alongside sheer subject enthusiasm that is evident from their conversations with students (as opposed to question-and-answer sessions). If students find speaking their thought processes out loud helpful when solving challenging questions, for instance, there is absolutely no need to refrain from doing so.
That said, there are still tangible differences in how interviews operate between Oxford and Cambridge. As part of their effort to give interviewees a similar chance of being made an offer, Oxford often reallocates applicants around such that applicants might be interviewed by college(s) they did not apply to. This is why Oxford keeps applicants for several days during the interview process. Rather than an interview reallocation process, Cambridge – where offers are made based on a college-by-college basis – adopts the winter pool to give the best applicants a real chance to be made an offer regardless of which college they applied to. When a college believes an applicant deserves a place at Cambridge but the college is oversubscribed for a particular course, the applicant will be placed in the pool to be considered by colleges that still have the capacity to admit student(s). Though a recognition from Cambridge of their potential and subject passion, pooled applicants often face vastly different outcomes: some may receive an offer without further interview(s); some may be invited for an interview with a different college before admissions outcome are made; some may receive an offer from their original college; the rest would simply be rejected. Around 3,500 offers per year are made by preference colleges; 700-800 are made through the Winter pool[4].
Narrow Down by Subject / Course
At the end of the day, the chances of getting into Oxford or Cambridge are equally low and application to either requires a similar amount of extra effort, time, and preparation. Therefore, wise applicants should decide on which Oxbridge course they wish to study rather than which university they wish to go to.
---
[1] https://monitor.icef.com/2021/03/new-analysis-projects-brexits-impact-on-eu-enrolment-in-british-higher-education/
[2] https://www.ox.ac.uk/about/facts-and-figures/admissions-statistics/undergraduate-admissions-statistics/admissions-statistics/courses
[3] https://www.undergraduate.study.cam.ac.uk/applying/interviews
[4] https://www.undergraduate.study.cam.ac.uk/sites/www.undergraduate.study.cam.ac.uk/files/publications/ug_admissions_statistics_2020_cycle.pdf4https://www.undergraduate.study.cam.ac.uk/sites/www.undergraduate.study.cam.ac.uk/files/publications/ug_admissions_statistics_2019_cycle_0.pdf4https://www.undergraduate.study.cam.ac.uk/sites/www.undergraduate.study.cam.ac.uk/files/publications/ug_admissions_statistics_2018_cycle.pdf
UK University Admissions Consulting
Sign up 1-on-1 Admissions Consultation
Close
Thank you!
You have scbcribed ARCH successfully.
Subscribe to receive the latest news and exclusive offers from ARCH Education!